Review: Hornady 190-Grain Sub-X Ammunition and Bullets for 300 AAC Blackout
This is a review that focuses on the overall performance and comparison of factory versus handloaded ammo. Specifically, I used the Hornady 190-grain, Sub-X ammunition and bullets for my .300 AAC Blackout rifles.
I own several guns in .300 AAC Blackout caliber, and only one is not based on an AR semi-automatic action. It's a Ruger American Ranch rifle, a bolt-action with a short, threaded barrel. I bought it purposely for varmint hunting, and chose the gun and the caliber so I could make the system as quiet as possible when pairing it with a suppressor.
For a while, I had to contend with having only non-expanding bullets available for my .300 hunting ammo, whether in factory ammo or for my handloads, because I wanted subsonic ammunition. This would eliminate the supersonic "crack" noises from the bullets as they traveled downrange, trailing their sonic shock waves along behind them. Achieving subsonic speed, along with good terminal performance, typically means using a big, heavy, but streamlined bullet.
Unfortunately, those streamlined projectiles do not expand at subsonic striking velocities, as they were designed for centerfire rifle ammo. They have good terminal performance at high striking velocities, but poor expansion in animals at the slow projectile speeds I want in my system. I did a lot of .300 cartridge reloading with different projectiles in the 190 to 220 grain range, trying to get a good combination of powder load, projectile weight and shape that would be subsonic at the gun's muzzle, accurate and have good terminal performance. Alas, all I was able to achieve was a bunch of .30 caliber holes through and through the targets. Ditto with factory ammo.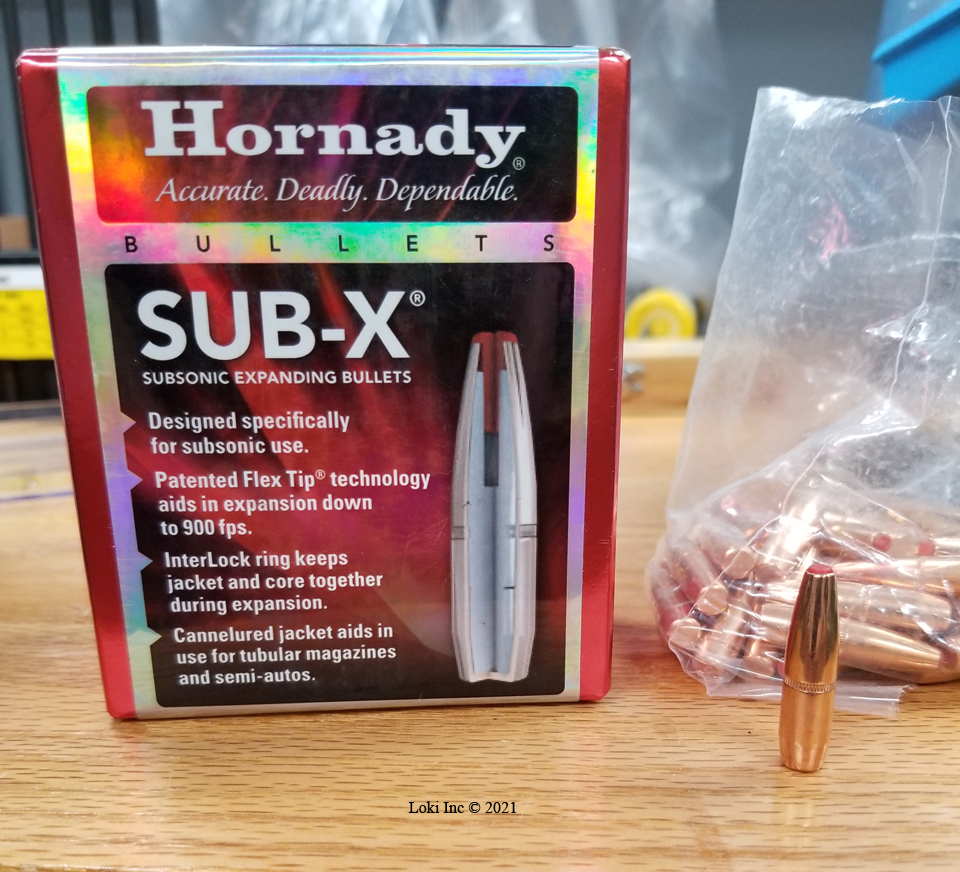 Hornady 190-Grain Sub-X Ammunition and Bullets for 300 AAC Blackout
In a happy coincidence, at about the time I was ready to give up and accept poor terminal effects, Hornady Ammunition released its 30 cal .308 190 grain Sub-X® bullets to the handloading community.
Hornady advertised that the bullet design was optimized for ballistic performance at subsonic velocities, as well as reliable expansion in an animal target. Soon afterwards, Hornady introduced rifle ammo using the same bullet, the 300 Blackout 190 grain Sub-X® Subsonic.
First, I acquired enough Sub-X® bullets to run handloads for load development, and then for testing on varmints. I had finished my load development and was busy busting armadillos and raccoons with the ammo when Hornady released the factory loads. So, I acquired a couple of boxes of the loaded Sub-X® rounds for comparison to my handloads.
The Reloading Process
For my handloads, I had difficulty finding new cases so I used 100 demilitarized, once-fired, FC 15 5.56 x 45 mm NATO caliber cases, cut-down and re-formed into .300 AAC/Blackout cases (7.62 x 35 mm). Because they were "remanufactured" cases, I checked a small sample for their maximum trim length to be no more 1.368 inches and they were okay. I then checked the neck dimensions (outside diameter no more than 0.3340 inches, and thickness no more than 0.013 inches) and as I suspected, about half were not OK.
Why did I check the necks?
Experience with remanufactured .300 cases made me alert to over-thick case necks. Because the cases are made from 5.56 cases, and are shorter than the parent cases, the resulting neck metal comes from the parent case body instead of its neck. Case bodies, particularly military case bodies, tend to be thicker than the necks. Over-thick necks on .300 cases can cause them to jam during feeding or extraction, and can lead to higher chamber pressures than intended.
Not having a neck trimming tool that would work on the .300 cases, I used my mini lathe to thin the necks of the offending cases. Next, I lubed the cases then decapped and sized them with the full-length sizing die from my Lee die set – three times through the sizing die, rotating the case 90 degrees after the first time through.
I reamed the case primer pockets and cut the primer crimps (they were former military cases, so the primers were crimped) with a Hornady Small Head Primer Pocket Reamer chucked in a hand-held drill. I then deburred the case mouth of each case, inside and outside, with an RCBS Deburring tool.
I also used a Lyman Flash Hole Uniformer to remove the small burrs from the primer flash holes created when the holes were punched during case manufacture. The uniformer also cuts those holes to a consistent size and shape, as long as they are close to the center of the primer pocket. If they aren't, the tool will let you know by its feel that it is trying to center the holes. Check those cases, and throw them out if the holes are off-center.
I primed the cases with Remington #6 ½ Small Rifle Primers, then dropped powder into them Since Remington primers are no longer for sale, any good quality standard small rifle primer will work as a substitute. I loaded five cases, each, with 9.6 grains of H110, and five cases, each, with 11.0 grains of AA1680.
Lastly, I seated each bullet to center of its cannelure (corresponding to an overall length of 2.050 inches), and used the Lee factory crimp die to put a medium crimp on each case mouth.
At this point, I double-checked the case necks to make sure each was less than 0.3340 inches in diameter so they would feed and perform correctly in my rifle. They were all okay [photo – Finished .300 AAC Blackout round with 190 grain Sub-X® bullet].
Range Testing
I test-fired the loaded rounds at a 50-yard target across a Magnetospeed chronograph; the average temperature was 63.5F [photos – Magnetospeed chrono mounted on Ruger American rifle, Ruger American rifle with Magnetospeed chrono ready to test .300 AAC Blackout handloads]. My projectile velocity goal was slightly less than the speed of sound, which, for my location and the temperature was about 1120 feet per second (fps).
The H110 shots averaged 1094 fps, with a Standard Deviation (SD) of 16.7 fps, so I stayed with this load. The AA1680 shots averaged 978 fps, with an SD of 12.4 fps; this average velocity was too slow, so I decided to adjust the load. Even though I wasn't particularly focused at this stage on group size, each load I shot produced groups of less than an inch at 50 yards. This is sufficient for shooting medium-sized varmints such as armadillos or raccoons under the conditions where I hunt them (dense woods and overgrown fields).
Because of the shooting tests, I loaded five more cases the same way as before, except for using 11.5 grains of AA1680.
Shooting Tests
I fired them under the same conditions (one advantage of having a range right outside your loading area door is that you can quickly go back and forth between the loading bench and the range), and their average velocity was 1112 fps, with an SD of 29.5 fps; the average was too fast, and the SD was higher than I like.
Therefore, I loaded five more cases the same way as before, except for using 11.3 grains of AA1680.
Once again, I fired them under the same conditions, and their average velocity was 1072 fps with a SD of 14.2 fps, so I stayed with this load. The group size of this load was also under an inch at 50 yards.
Based on this shooting data, and the fact that 11.3 grains of AA1680 more completely fills the case volume than 9.6 grains of H110, I loaded 50 rounds using 11.3 grains of AA1680 in the same manner as before to use for varmint hunting. Now, it was time for comparison testing of my handloads and the factory ammo.
Field Testing
I live in a target-rich environment when it comes to varmints, and was able to try each type of .300 AAC Blackout ammunition, factory and handloaded, against several 10s of these creatures.
After shooting armadillos, coons, possums, and skunks, I could tell no differences between the performances of factory ammunition versus my handloaded ammo. I was able to achieve one-shot kills in most cases, with no failures on the part of the projectiles.
The "nut behind the butt" was responsible for any kills that required more than one shot. In several instances, the projectiles didn't exit the varmint; where bullets did exit and I was able to recover them, they showed good expansion and mass retention.
Conclusion
Hornady's new Sub-X® ammunition and bullets for handloading fit perfectly into my .300 AAC Blackout concept – arming my quiet, suppressed bolt-action rifle with cartridges capable of accurately launching subsonic projectiles that expanded reliably on impact.
Visit Hornady online to see more about this ammunition and bullets.